Training
Whether you lead an organization or seek personal growth, we're here to help you find training and professional development opportunities. The Digital Foundry at New Kensington, in partnership with Penn State New Kensington, offers certification programs from entry-level manufacturing to advanced engineering. Gain hands-on experience and enhance your skills in our state-of-the-art "Digital Learning and Demonstration Lab" to thrive in a rapidly changing, technology-driven environment.
Our training programs cover digital technologies for smart manufacturing and focus on developing vital professional skills like collaboration, communication, problem-solving, and decision-making. These skills are valuable in any industry and workplace.​​​​
We offer education and training programs to equip the current and future workforce with the knowledge and skills to apply the latest in digital/smart manufacturing technologies, regardless of their starting point.
With an emphasis on real-world applications and hands-on activities, learners leave with practical tools, know-how and ability to apply in their work environments
| | | | | |
| --- | --- | --- | --- | --- |
| Introductory & Awareness Training Programs | Introduction to Digital/Smart Manufacturing | Introduction to Industrial Robotics | Introduction to Programmable Logic Controllers (PLCs) | Introduction & Awareness in Data Analytics |
| Signature Training Programs | Level 1: Manufacturing & Digital Fundamentals | Level 2: Digital Manufacturing Essentials | Level 3: Digital Manufacturing Professional | |
| Certified Training in Robotics & Automation | Robotics Operation & Programming (FANUC Certification) | Programmable Logic Controllers (FANUC Certification) | | |
| Online Certification Training | Certified Manufacturing Associate (CMfgA) | Robotics in Manufacturing Fundamentals (RMF) | | |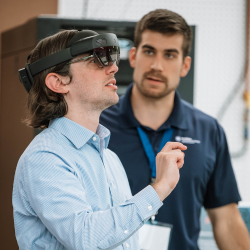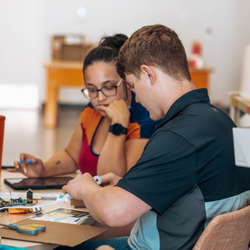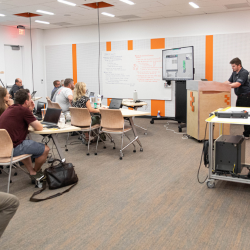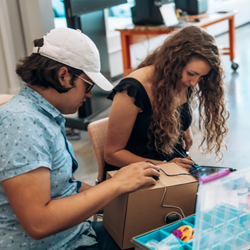 Learn more about our training programs:
Level 1
Level 1 programs are for those wanting to enter the manufacturing field with little or no experience in traditional or digital settings; looking for upskilling/reskilling; or wanting to change careers.
Level 2
Level 2 programs are perfect for those currently employed or with education/background in manufacturing including plant supervisors, machinists, equipment operators, technicians and those working in a manufacturing environment with regular interaction with manufacturing processes.
Level 3
Level 3 programs are designed for experienced engineering and technical professionals in traditional and digital manufacturing. These programs are ideal for individuals who want to enhance their personal or organizational development in smart manufacturing.
Industrial Robotics & Automation Training
Take your productivity and skills to the next level with Industrial Robotics & Automation Training with our FANUC Certified Trainers. Learn how to program and operate industrial robots for manufacturing automation and come away with skills and knowledge aligned to today's industry needs.
Questions about any of our education or training opportunities? Contact us at education@digitalfoundrynk.com.